Narrator - Stacy Keach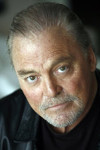 A renowned Hollywood actor, director and producer. He is also a composer. For more than 40 years he has been successfully performing in American film, on television and on stage, where he enraptures audiences both in classical and Broadway productions. He has also gained praise and recognition as a narrator and host of TV films and shows. He received numerous awards including the Golden Globe.
Films
Latest films: "Gotti" with John Travolta; "Truth" shot in Australia, where he performs alongside Cate Blanchett and Robert Redford; film adaptation of Stephen King's "Cell" with John Cusack and Samuel L. Jackson. STACY KEACH gave a brilliant performance in the Oscar winning "Nebraska" directed by Alexander Payne. He took part in "Sin City 2: A Dame to Kill For". Lately he also appeared in TV films such as: "Girlfriend's Day" directed by B. Odenkirk, "Gold" directed by S. Gaghan starring Matthew McConaughy, Edgar Ramirez and Bryce Dallas Howard. His most noted films include: "The Heart is a Lonely Hunter", "End of the Road", "The New Centurions", "Doc", "Fat City", "Luther", "The Long Riders", "American History X", "Imbued" (with his music), "The Bourne Legacy".
Series
STACY KEACH performed the role of Henry Pope in the well-known series "Prison Break". He appeared in the popular sitcom "Two and a Half Men" as well as in such series as "LawOrder", "Mistral's Daughter", "The Blue and the Gray", "Anger Management". He owes his international recognition to the role of private detective Mike Hammer in the CBS series "Mike Hammer" (1984-1987 and 1997-1998) for which he was nominated to the Golden Globe in 1985. He was awarded the Golden Globe and nominated to the Emmy Award for his personification of Ernest Hemingway in the ZDF mini-series "Hemingway" (1988).
Voice
STACY KEACH has a reputation for his voice. He is considered one of America's best narrators. The 10th season of the popular series "American Greed" can serve as proof for this statement. He dubbed Don Bookner in the animated series "The Simpsons". He narrated the radio show "The Twilight Zone". He performed successful dubbing for Disney's "Planes" and "Planes: FireRescue"). He narrates TV productions for PBS and Discovery.
Theatre
STACY KEACH performs in classical and contemporary theatre productions in Broadway and Off-Broadway. He has a reputation of an excellent Shakespearean actor. He started his acting career in 1964 with two parts in "Hamlet". His performances of king Lear and Falstaff at the "Shakespeare Theatre Company" in Washington are classic. He was extremely successful in performing Lyndon Johnson (a contemporary replacement for Macbeth) in "MacBird!" at the Village Gate (1966), for which he was awarded his first Obie Award (of three). He performed name parts in Shakespeare's "Henry V", "Hamlet", "Coriolanus", "Richard III" and "Macbeth".
Awards
The long list of important awards received by STACY KEACH includes i.a. the Golden Globe, three Obie Awards, three Vernon Rice Awards, two Drama Desk Awards, three Helen Hayes Awards and the Millennium Recognition Award. He was nominated to the Emmy and Tony awards many times. In 2008 he received the Mary Pickford Award for versatility in the profession of an actor. In 2015 he was accepted to the American Theatre Hall of Fame.
Autobiography
He described his rich life in an autobiography "All In All: An Actor's Life On and Off Stage" for which he received the Prism Literary Award.
Philanthropy
STACY KEACH lives by the rule of sharing. For 30 years he has been the honorary president of the foundation "Cleft Palate". He is a spokesman for the organisation "World Cranifactial". He received Hollywood's Celebrity Outreach Award for charity work.
Family
STACY KEACH often stresses that his family is his great success. He has been married for 30 years to Małgorzata Tomassi from Warsaw, Poland who used to work as a TV presenter for the Polish National Television in the 1970s. They have two children: son Shannon Keach (1988) and daughter Karolina Keach (1990). In 2015 STACY KEACH received Polish citizenship.